NEW "GOLDEN WORLDS" EXHIBITION AT MFAH SHOWCASES 400 INDIGENOUS COLOMBIAN WORKS
Rex Koontz, director of the MA in Art History program at the School of Art, serves as consulting curator of the show.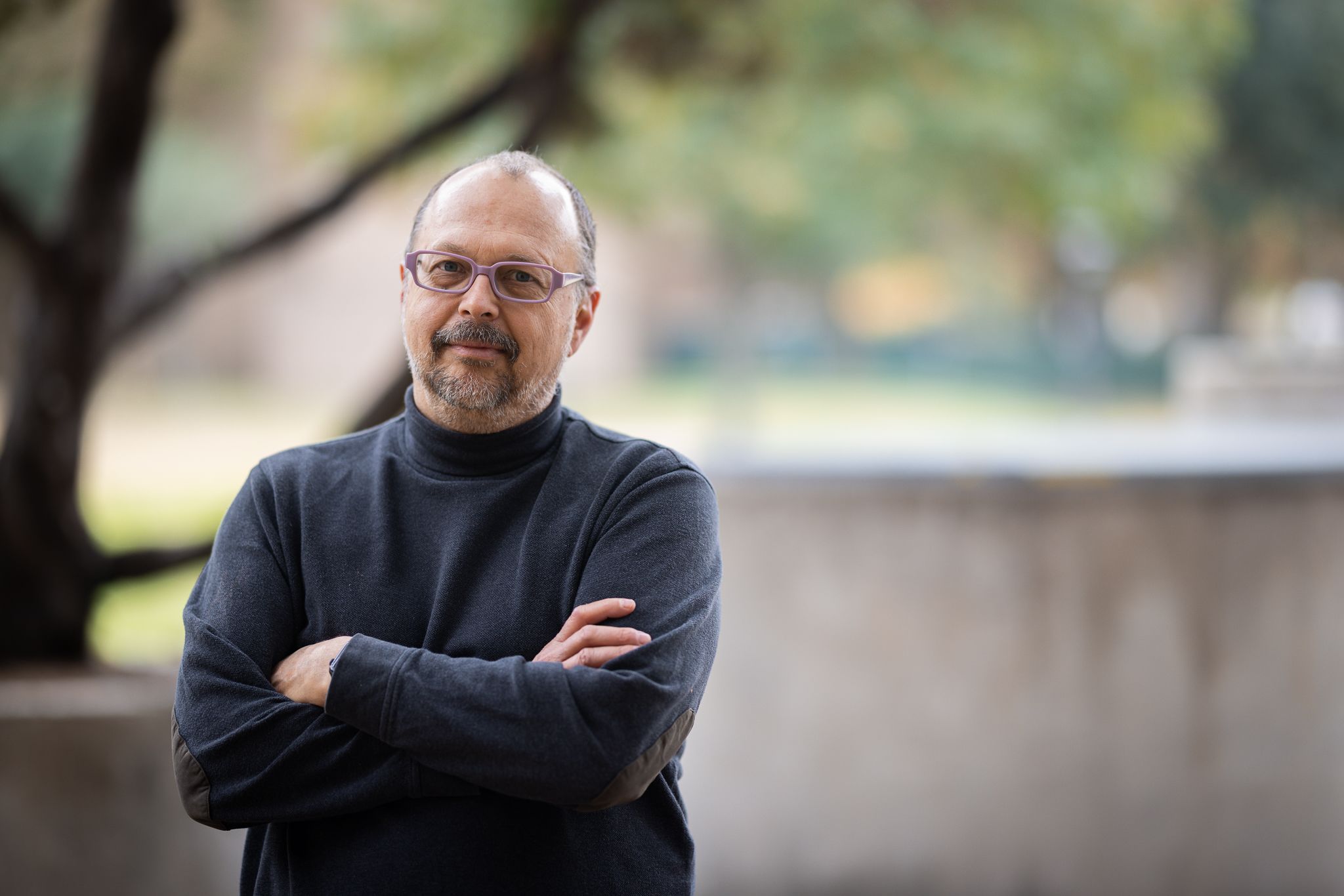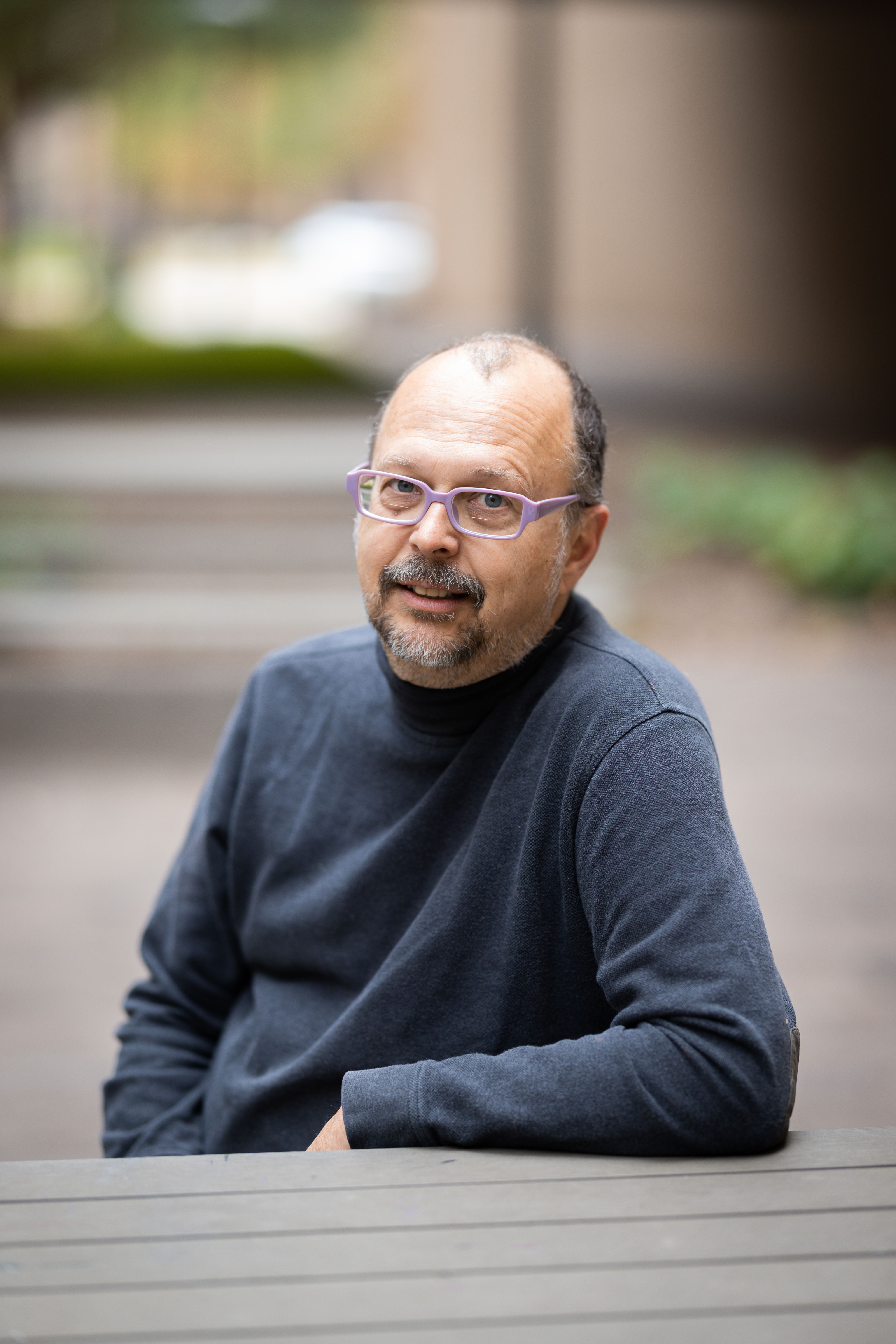 Some 400 ancient Colombian artifacts are now on view at the Museum of Fine Arts, Houston (MFAH). But this isn't your typical, run-of-the-mill museum show—think dusty display cases, dim lighting, and stuffy confines. Rather, "Golden Worlds: The Portable Universe of Indigenous Colombia" represents a concerted effort to showcase the diversity and brilliance of pre-Colombian cultures in a fresh way. And an extremely successful one at that.
Encompassing everything from intricately-designed gold pendants to sophisticated textiles, "Golden Worlds" seeks to reframe how visitors engage with and understand ancient Colombian cultures.
"The show is—like a lot of great shows—a kind of journey for the viewer," said Rex Koontz, director of the MA in Art History Program at the University of Houston and consulting curator of the exhibition.
That journey begins with what Koontz describes as one of the most fundamental collections in the exhibition, contained within a single vitrine. It's an assemblage of all the gold adornments a great Colombian leader would have worn around the year 300 A.D. Laid out as if they were on a body, the pieces connote a sense of ornamentation that helps set context for the rest of the show.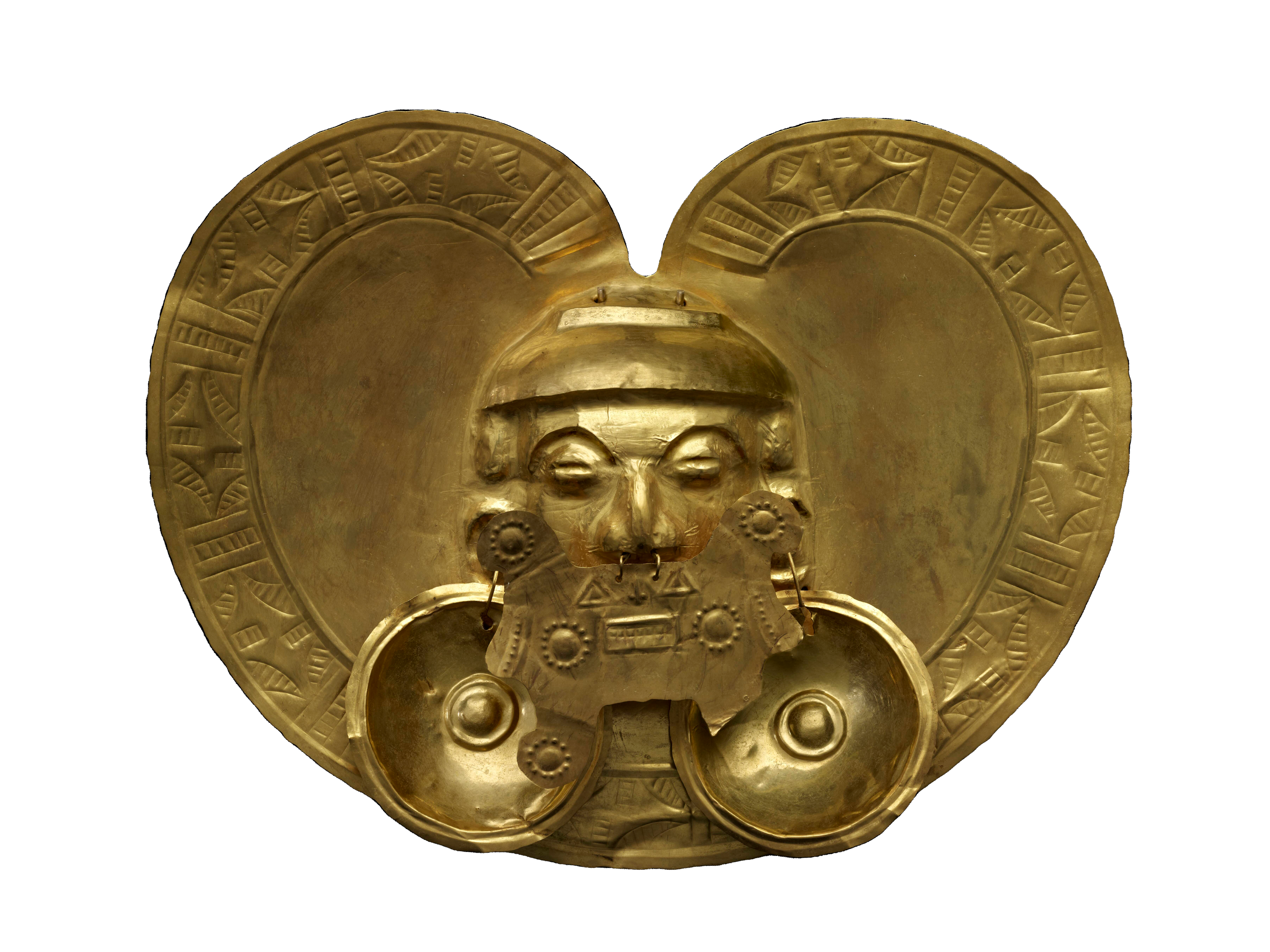 "It's the first case you see as you walk up the stairs and enter the exhibit," Koontz said.
"That first room is about the transformed body. The first thing we do visually is show you how these gold ornaments would've worked on a human body."
The theme of a body transformed is a common one throughout the exhibition, Koontz said.
"This is, in our parlance, jewelry. But it's jewelry not to show off one's wealth, but to transform one's self in religious ceremonies," Koontz said. "What you really put on all the gold for is to become something else—a powerful religious practitioner who then ends up doing things for the community through their transformed being, their transformed state."
"Golden Worlds" draws from MFAH's already extensive collection of indigenous Colombian artifacts, supplemented by works from the Metropolitan Museum of Art in New York and the Banco de la República Gold Museum in Bogotá, Colombia.
"One of the things that this show does is bring together for the first time those three collections and really a lot of masterpieces that normally, you'd have to travel thousands of miles to see them and to compare them," Koontz said.
Pictured: Rex Koontz (right) with associate professor of art history, H. Rodney Nevitt, Jr. (left)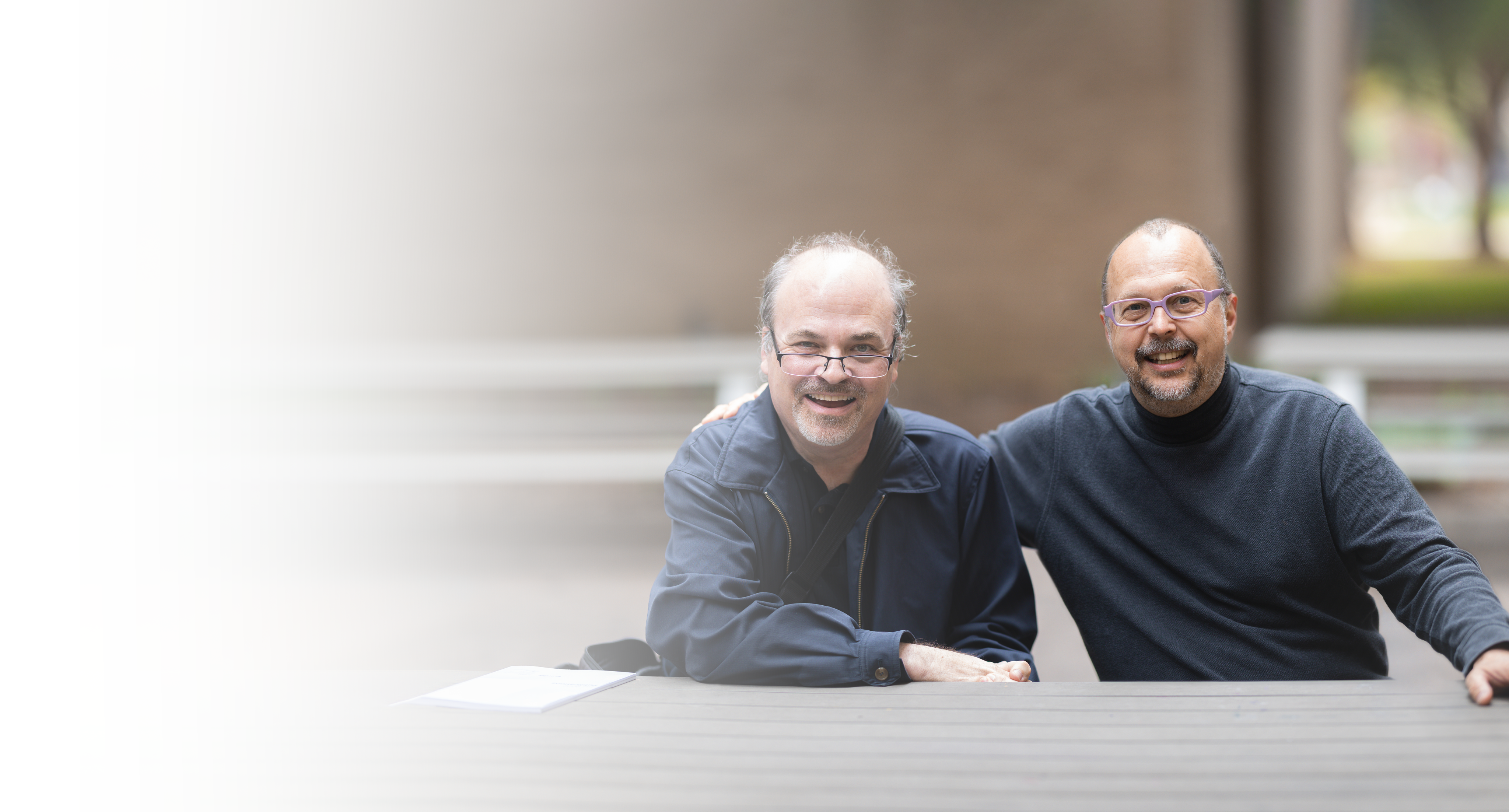 An exhibition of this scale truly takes a village to assemble and stage. Koontz stressed the importance of having a team of trusted collaborators to help put "Golden Worlds" together.
"Huge museum exhibitions like this one are great examples of creative teamwork," Koontz said.
"No single curator, or even a small group of curators, can do this. There's so many experts, you have to bring in so much expertise."
"Everything from design, to moving objects, to shipping objects and how they are shipped, to handling objects and getting them into the cases. When you're handling 2,000 year old, five millimeter gold objects, you have specialists doing that."
Koontz said the team of experts enlisted to put the exhibition together was extremely deliberate in presenting the ancient works in the most engaging ways possible for viewers.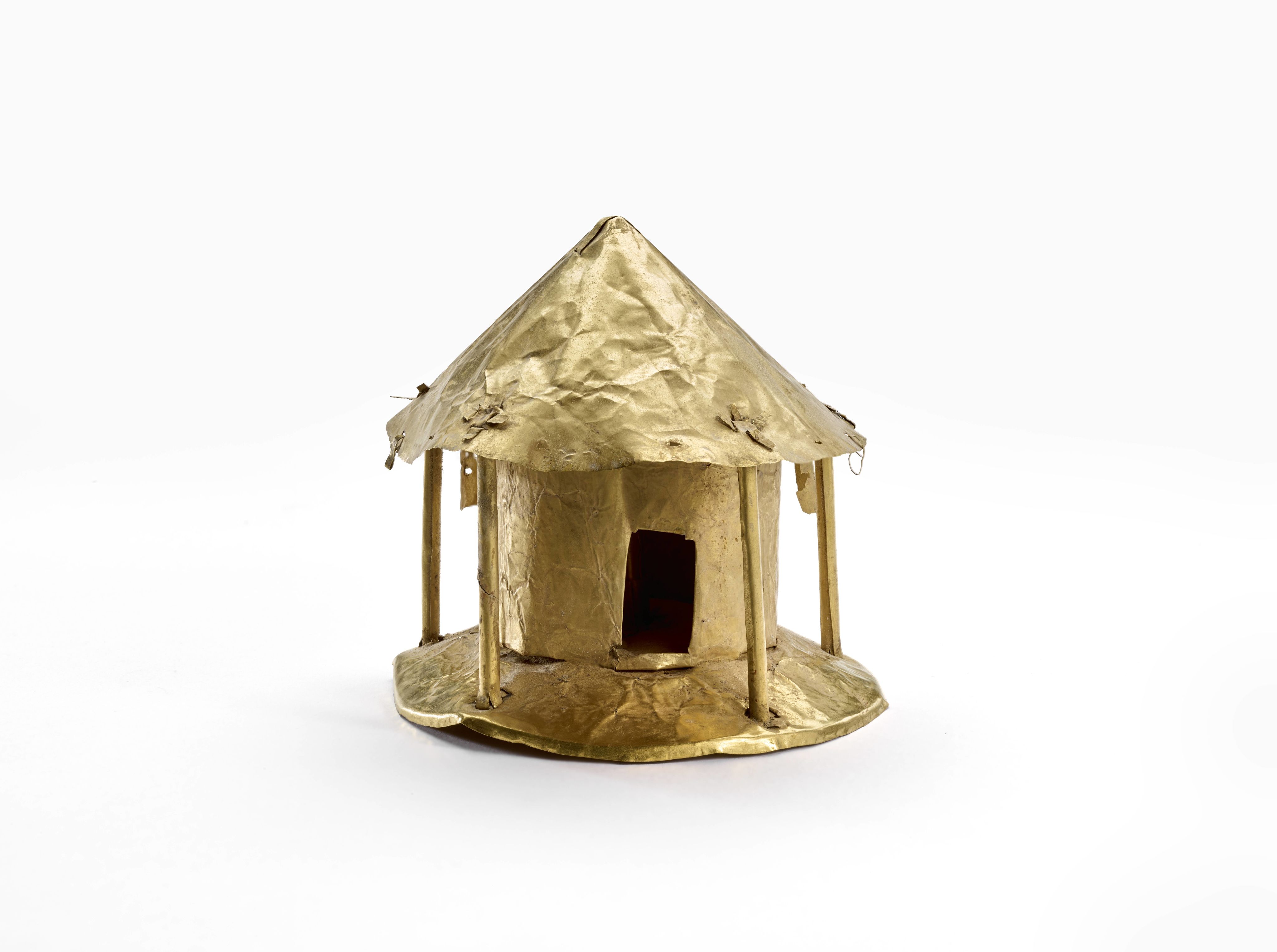 "I worked with designers in type—we thought a lot about what the wall texts looked like. We thought a lot about what the entryway is going to look like. I worked with graphic designers. I worked with exhibition designers, one in particular was absolutely critical to help me think through how the visual presentation was going to add to these ideas that I wanted to communicate and these experiences I wanted the viewer to have."
Koontz said a crucial element of the exhibition is a collection of 16th century manuscripts and engravings from the first Europeans to encounter indigenous Colombia cultures. Here, the theme of transformation reappears, though not in regards to the human body, but the indigenous cultures themselves.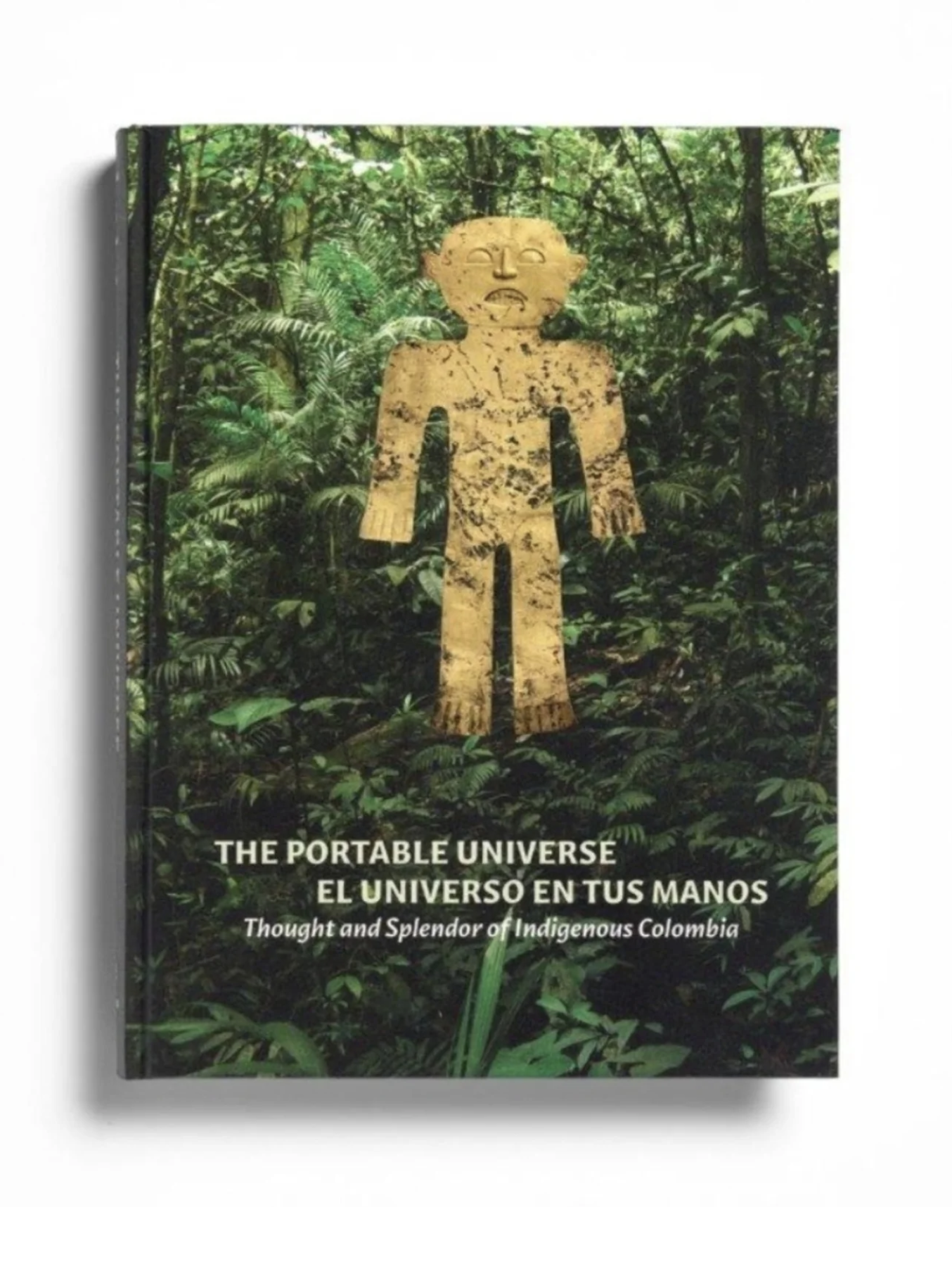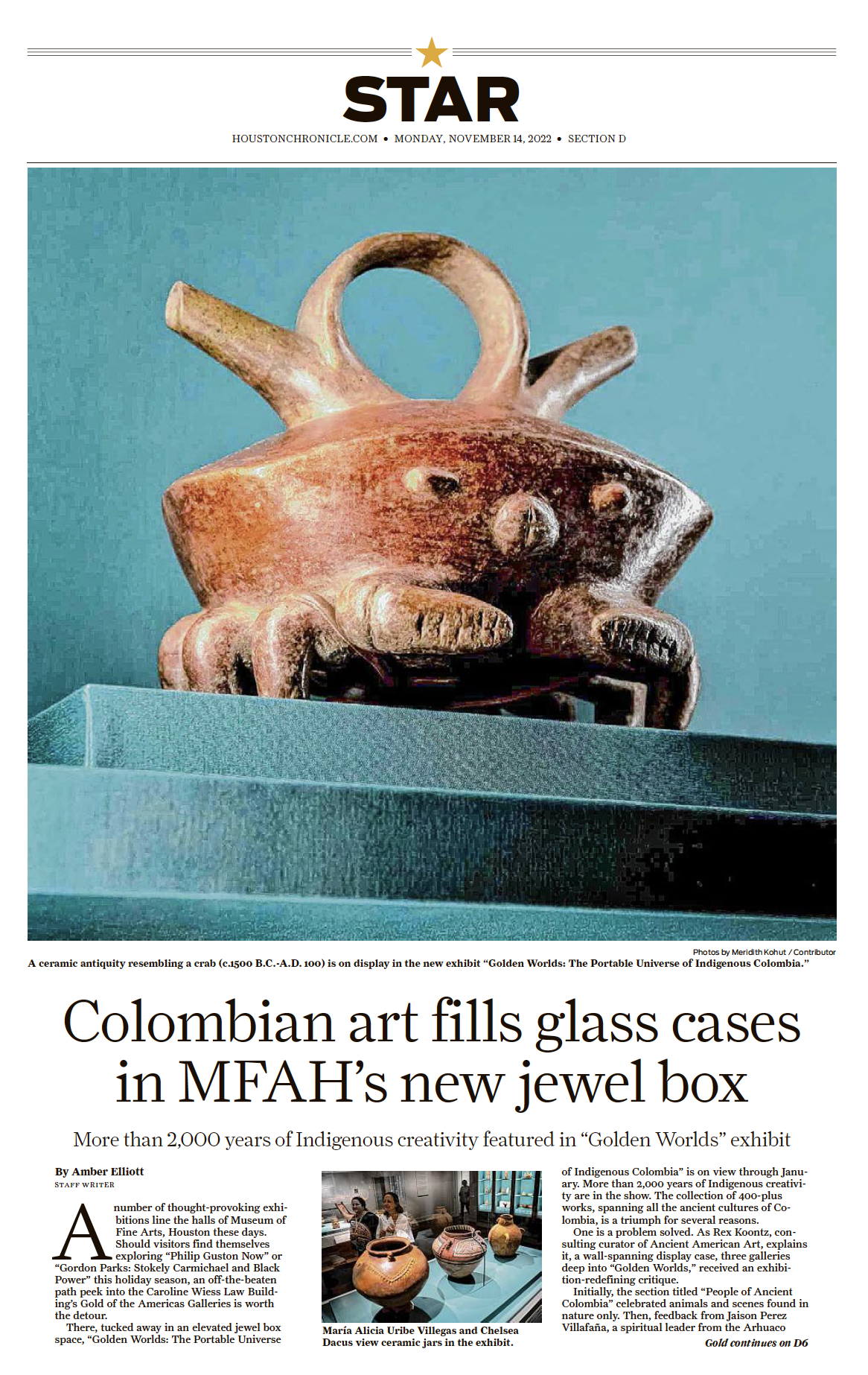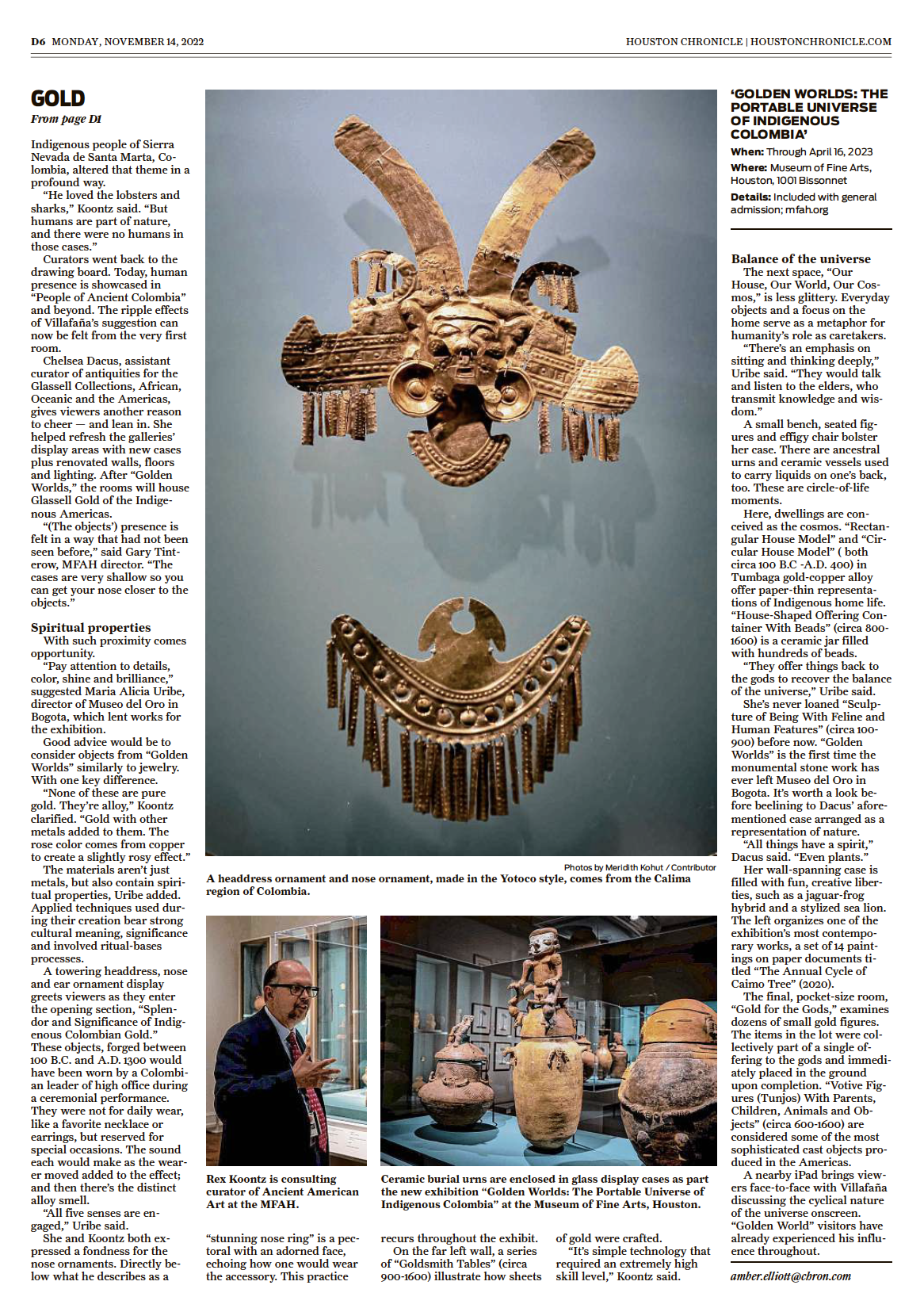 "There's a small room that basically tries to get the viewer into thinking about these early Europeans and how their arrival totally transformed—and not always in a good way—the indigenous peoples and their cultures," Koontz said.
Koontz said these manuscripts and engravings were particularly hard to come by when he and the team were sourcing works during the COVID-19 pandemic.
"In the midst of COVID, no one was interested in working with me to loan me these 16th century manuscripts," Koontz said. "But I really wanted to have this part of the show be something that would be important for viewers. And to do that, you can't just put up a couple of wall texts and say, 'You should think about this.'"
"You're in a museum, you want the actual book that this French person wrote in 1590. It was the first time we see a picture of a Colombian indigenous person panning for gold. We want that book. You don't want to just tell the viewer that that's what happened."
Thankfully, a generous loan from the Harry Ransom Center at the University of Texas at Austin got Koontz his book, and the exhibition is all the better for it.
"But it took six months or a year to convince someone to give me the 16th century manuscript I really wanted," Koontz said.
Koontz said he hopes visitors grasp not only the level of craftsmanship that went into the pieces in the exhibition, but also the religious significance they possessed for their ancient Colombian creators.
"The first thing that I want [visitors] to take away is that these people were incredibly innovative artists with metal," Koontz said. "I've been around a lot of American artistic traditions done by native peoples. This is one of the greatest, if not the greatest, in metal."
"The other thing that I hope they take away that I think is fairly significant is that each artwork was there to generate or aid a profound religious experience. These are experiences that we can imagine. They're not entirely foreign. They're not something that is so strange that we can't even with our imaginations empathize and understand them."
"That's part of what the show is trying to do, to try to allow you to enter the mental world in which these objects were deeply meaningful. They were necessary to have a good human life."
"Golden Worlds: The Portable Universe of Indigenous Colombia" is on display through April 16, 2023 in the Caroline Wiess Law Building at the MFAH. More information is available here.