EARTH OF HOUSTON
Mitchell Center Visiting Artist Alan Sonfist creates new works at The University of Houston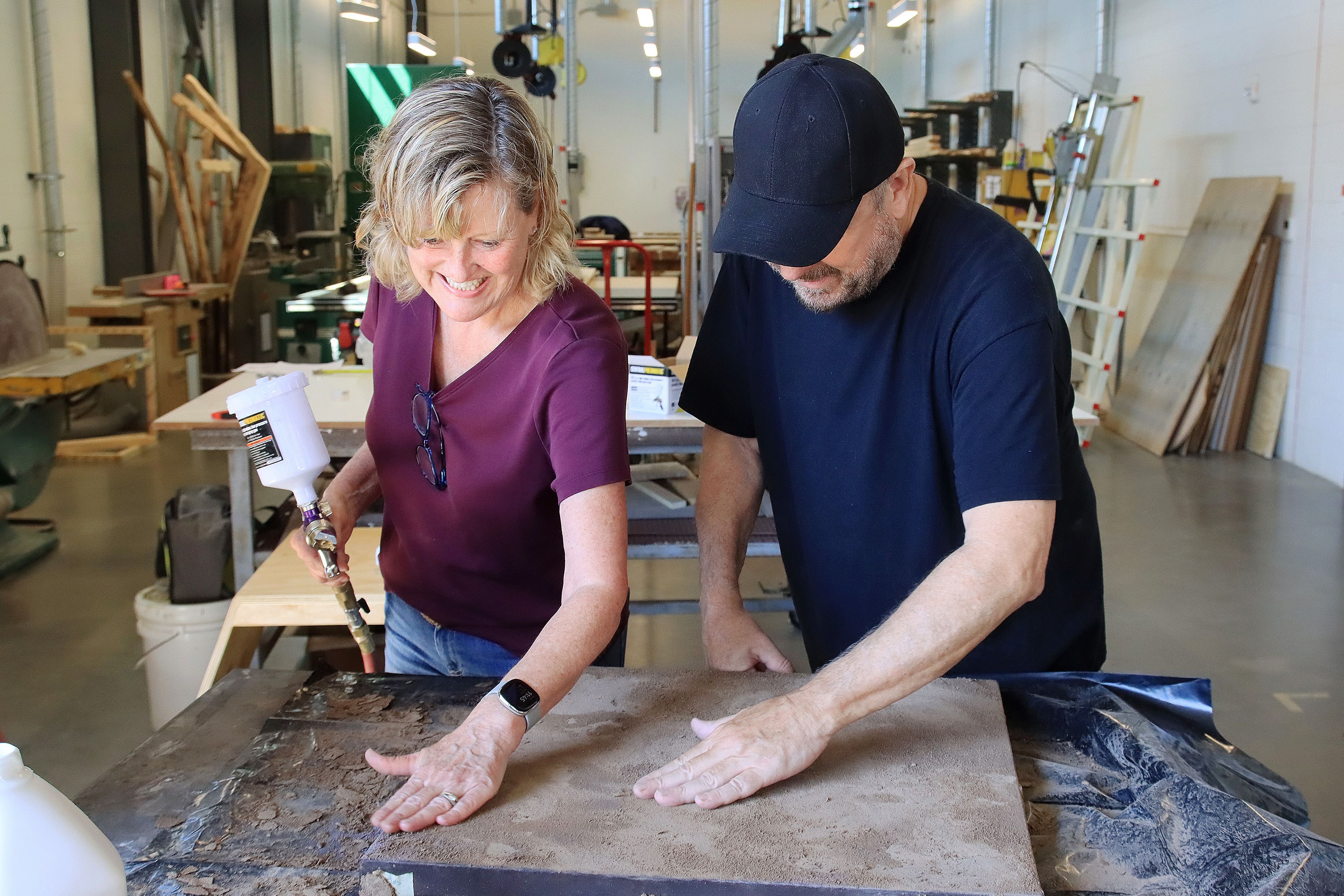 Michelle Matthews and Alan Sonfist work at Elgin Street Studios
Michelle Matthews and Alan Sonfist work at Elgin Street Studios
When environmental artist Alan Sonfist was a child, his father would take him into the forest. "It was a hemlock forest," he describes. "It was something that people didn't care about, especially in the 1950s. Forests were not considered desirable places for people to go, at least in urban centers, and my father felt it was a magical place to take me." It was this early ritual that Sonfist credits as the origin point for his first major commissioned work, Time Landscapes— an urban forest in Greenwich Village and part of the New York City Department of Parks
and Recreation.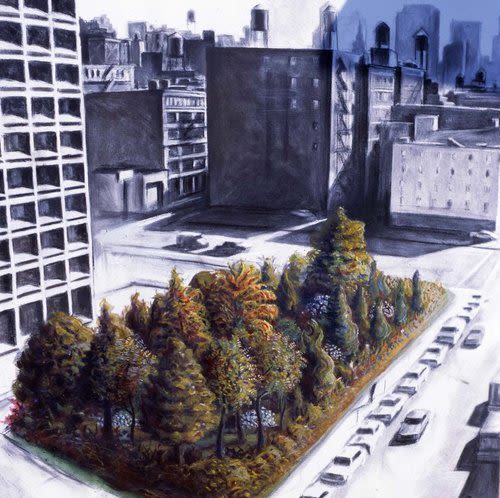 Internationally recognized as a pioneer in the Land Art movement, Sonfist's practice prioritizes ecological sustainability and his early work in the 1960s and 1970s helped catalyze the development of site-specific sculpture. As a Cynthia Woods Mitchell Center for the Arts Visiting Artist, Sonfist worked on the University of Houston campus this fall alongside artists, scientists and students to create a new series of earth paintings, collectively titled Earth of Houston.
Beginning in 1970, Sonfist's Earth Paintings utilize natural resources such as soil, seeds, leaves, and branches as a medium on two-dimensional surfaces. Taking these basic elements and showing them from a visual point of view is what Sonfist calls "the magic of the earth." He explains his roots to art as having a "spiritual connection to the land and how we as humans are connected to it."

Earth of Houston includes paintings and works on paper, both of which feature soil samples from 11 different areas in Houston and were collected in partnership with Atmospheric Sciences Assistant Professor Emily Beverly and her class. The soil, which speaks to Houston's biodiversity and regional industries, was processed through a sieve to ready the raw material for application.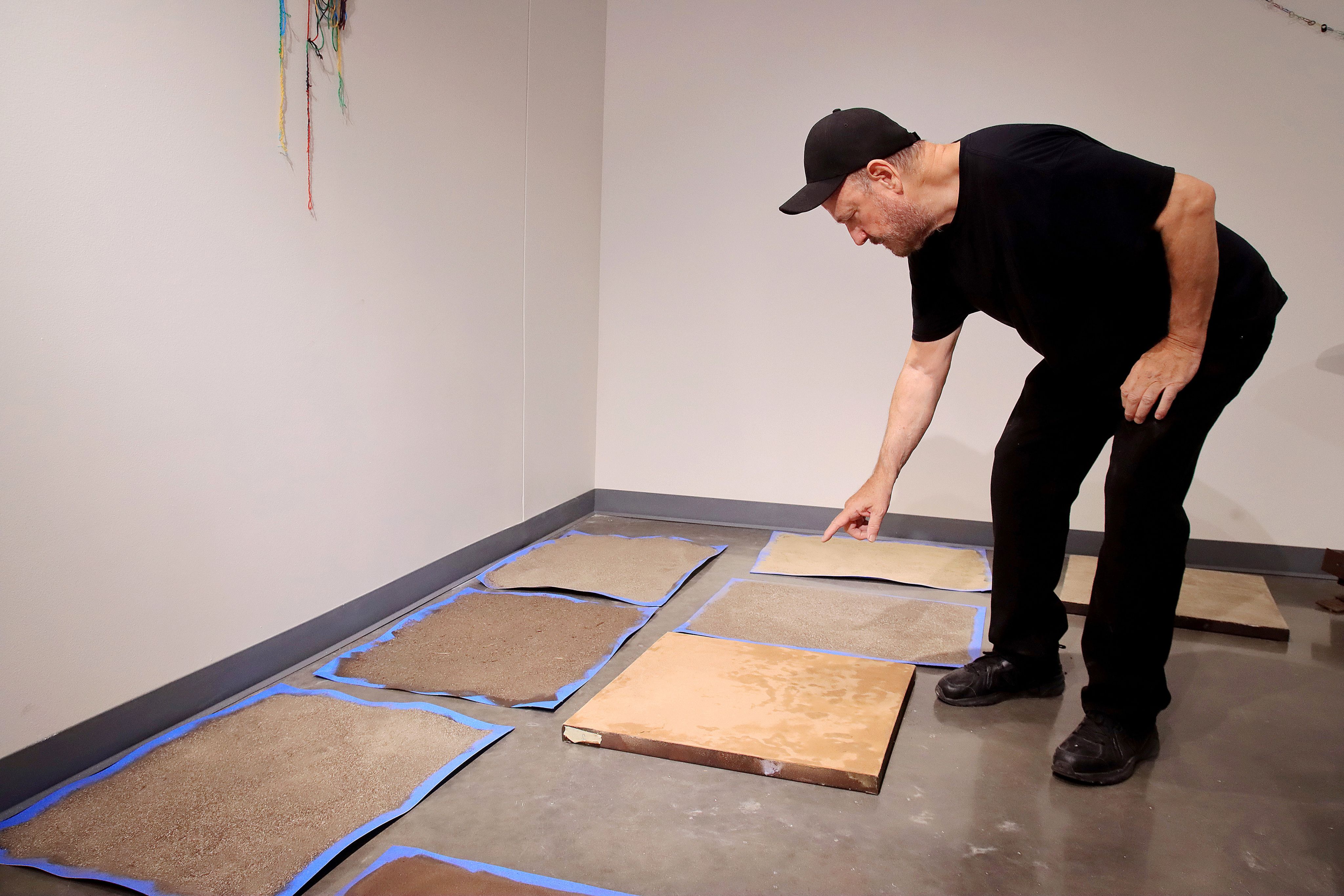 Sculptor Michelle Matthews, a third year MFA student, has been assisting Sonfist from the beginning of the project, working with curators and installers to support the unique structural needs of the paintings, as well as organizing a team of university collaborators. "The experience was invaluable," she says. "The resources available through the Mitchell Center streamlined this process." Matthew says she is already incorporating new techniques and materials into her own work after sharing resources with Sonfist. "Alan was incredibly gracious to the entire UH team and me. He treated me as an equal, asked my opinion regarding the processes; we problem-solved together."
Earth of Houston is on display now through January 27 in two locations at the University of Houston. Nine paintings are exhibited on the second floor of the Student Center South building while accompanying works on paper may be viewed at the Blaffer Art Museum.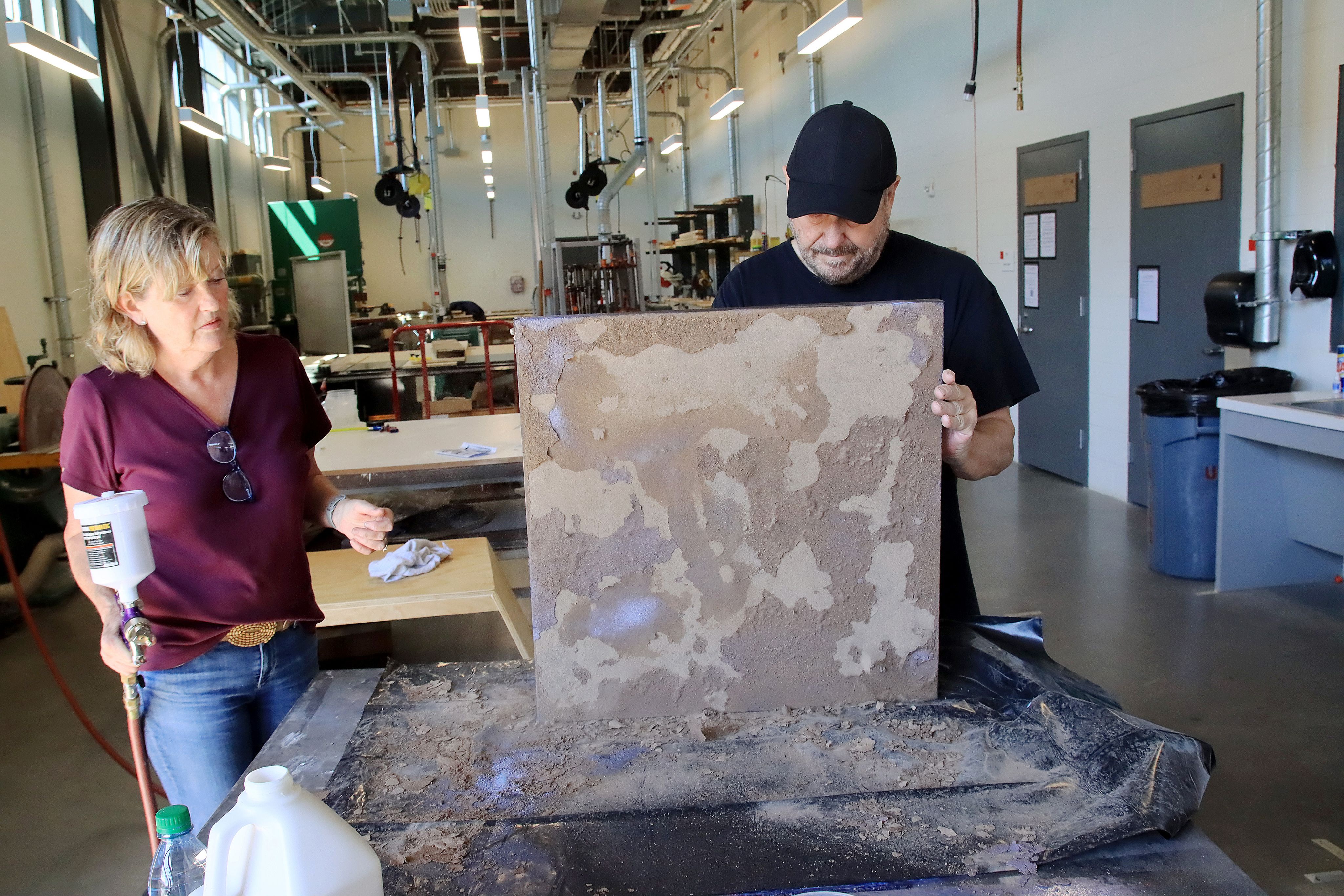 Michelle Matthews works with Alan Sonfist
Michelle Matthews works with Alan Sonfist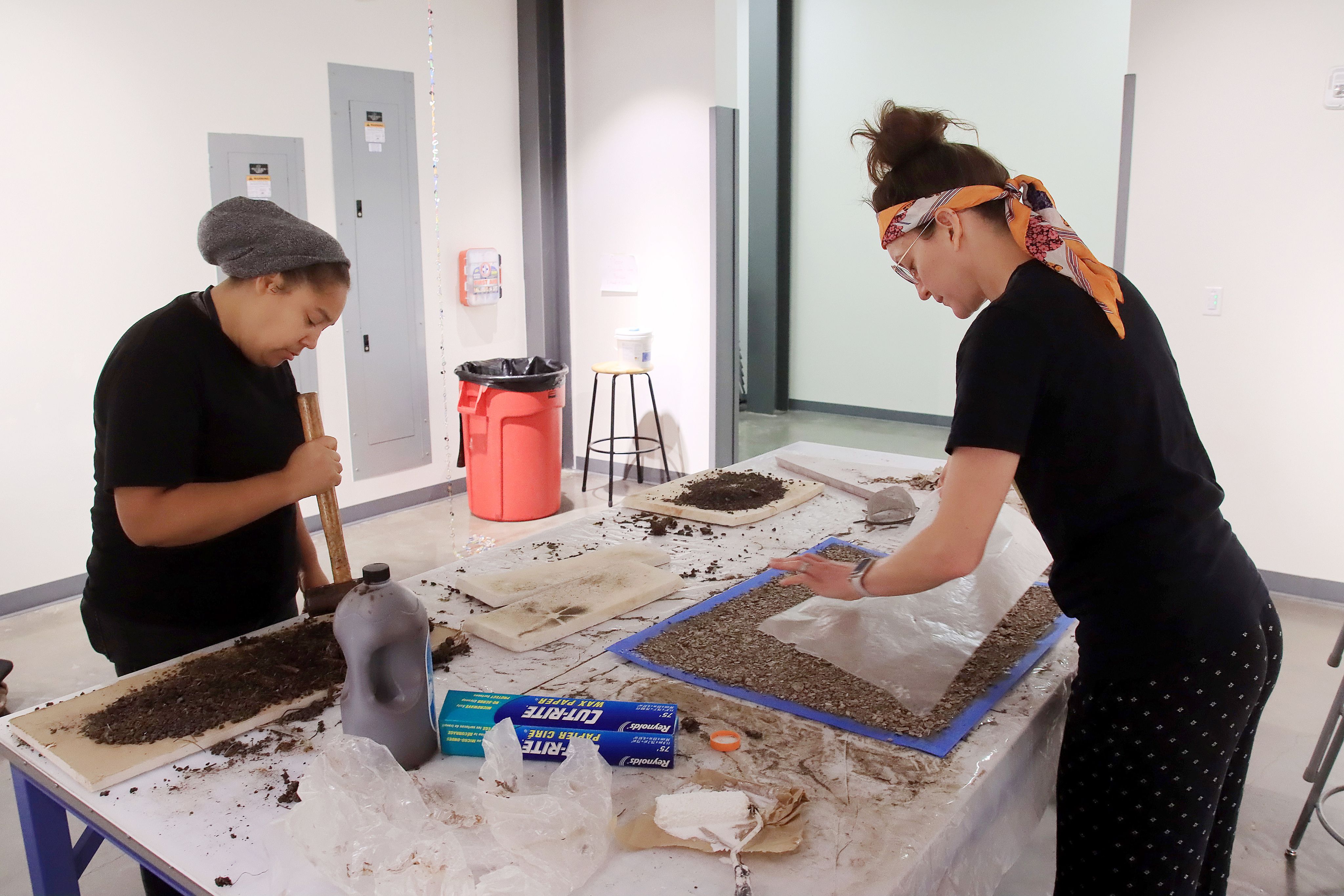 Sonfist visited the University of Houston from October 13-19, 2022 during which time he gave an artist lecture to the public. It is this lecture from which his quotes have been excerpted and transcribed.
My love of nature was more from an observational or poetic understanding, and realizing the fragility of the land.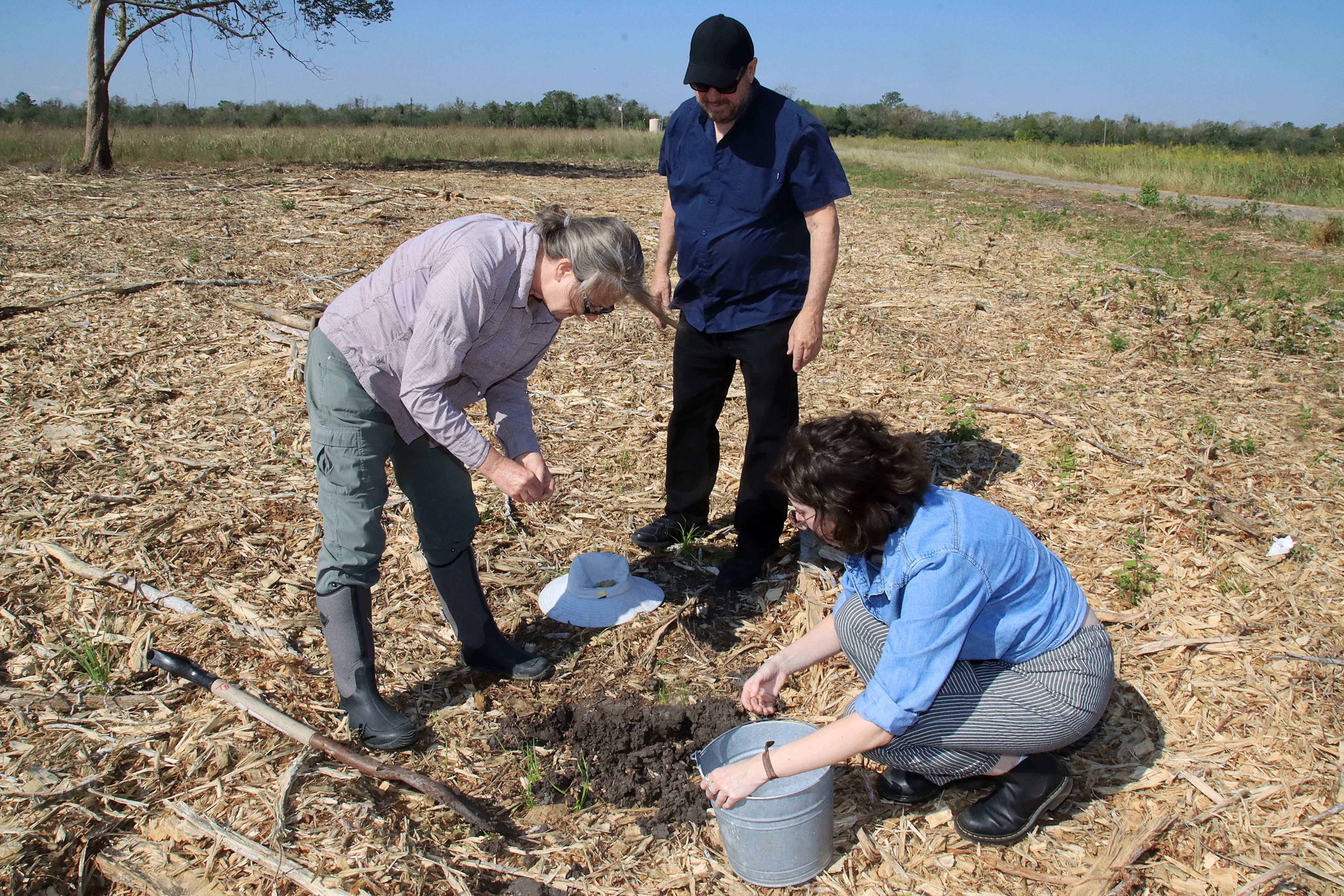 Alan Sonfist collects soil samples with a graduate student from UH Clear Lake and Cynthia Woods Mitchell Center for the Arts Program Coordinator Sarah Jentsch at the UH Coastal Center
Alan Sonfist collects soil samples with a graduate student from UH Clear Lake and Cynthia Woods Mitchell Center for the Arts Program Coordinator Sarah Jentsch at the UH Coastal Center